Search
News & Editorials
Daily Columns
Tide times
Ski Reports
Emergency Number
Business Profiles
Facebook

23 Jan: Powerco to remove lines over Whanganui River

Published: 23 Jan 2018 - - Author: Newsroom
---
Great news to see Powerco investing over $2 million during the next six months in Whanganui to upgrade our electricity network.
The most exciting project will be the removal of the overhead lines which currently cross the Whanganui River at Hatrick's Wharf.
They have been there so long they are a familiar landmark , so familiar we forget they are even there. The reality is that they have always been a potential hazard and unstable ground on the south bank puts them at risk.
Powerco tell us that replacing these with underground cable and then taking them across the bridge will give us a more reliable supply.
Upgrades in other areas of Whanganui will provide an alternative supply to Westmere and importantly back up for our water supply station.
That's pretty important as when the power goes out in that area for any length of time as it has in the past from storm damage, so does the water supply.
Thanks Powerco for the extra investment in Whanganui, we all know that if we are to attract new people and business here, a reliable power supply is essential.
PRESS RELEASE
Powerco to remove lines over Whanganui River
A $2.2 million programme of electricity network upgrades is planned for Whanganui over the next six months.
Electricity distribution company, Powerco, will undertake four separate projects with the largest being the removal of six overhead supply lines that span the Whanganui River at Hatrick's Wharf.
Powerco's general manager of Service Delivery and System Operations, Glenn Sharratt, said the overhead lines connected to the Hatrick substation would be reinstated underground."
Unstable ground on the southern bank of the river has placed the current network at risk," he said.
"We will underground the supply from Purua St, along Anzac Parade, across the City Bridge and back along the riverbank to the Hatrick's Wharf substation."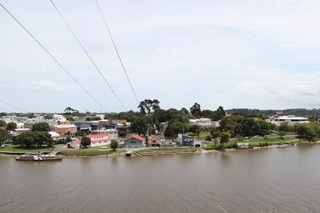 Most of the ducting is already in place so disruption to traffic would be kept to a minimum."Re
moving the overhead lines takes away a potential hazard across the river and will also ensure a greater reliability of supply to Whanganui."
Another major upgrade of the existing network was the laying of underground cable in Whanganui's northern outskirts.
"This will run for 3km from near the city boundary, along SH3 to Virginia Rd then reconnect with the existing overhead network at the Brassey Rd intersection. This will give us an alternate supply to the Westmere area and act as a back-up supply for Whanganui's water treatment plant."
Upgrading of the 33kV overhead network along the same route would also happen at the same time and the final project involved a similar overhead upgrade from the Whanganui grid exit point at Brunswick to the Whanganui East substation.
By Commenting Below you agree to the Terms and Conditions found here