Search
News & Editorials
Daily Columns
Tide times
Ski Reports
Emergency Number
Business Profiles
Facebook

"Local Government" with
Mayor / WDC
Nikki Payne inducted into Whanganui's Sports Hall of Fame

Published: 19 Nov 2016 - - Author: Mayor / WDC
---
Nicola (Nikki) Payne, the trendsetter for New Zealand's feast of Olympic Games and world women's rowing successes, was last night inducted into Whanganui's Sports Hall of Fame.
Along with her Nelson-born partner Lynley Hannen, Nikki won the country's first ever Olympic women's rowing medal with a surprise third placing in the coxless pair at the 1988 Seoul Games in South Korea.
Earlier the locally-schooled rower, who started her career on the Whanganui River while attending Wanganui High School, won the 1986 world under-23 single sculls title after placing fourth at the 1984 world junior regatta.
After Seoul Nikki and Lynley were sixth in the coxless pair at the 1989 world championships in Bled (Yugoslavia) followed by fourth in the coxless four and sixth in the eight at the 1990 world regatta in Tasmania.
Nikki, who was born in Hong Kong in 1966 and arrived in Whanganui before the age of two, was spotted by local-born coach Harry Mahon early in her rowing career.
She was in two Wanganui High School winning four-oar and eight-oar crews at national Maadi Cup secondary schools' regattas and won intermediate double sculls and eight-oar titles in Wanganui Rowing Club crews at the 1983 New Zealand championships on Lake Horowhenua.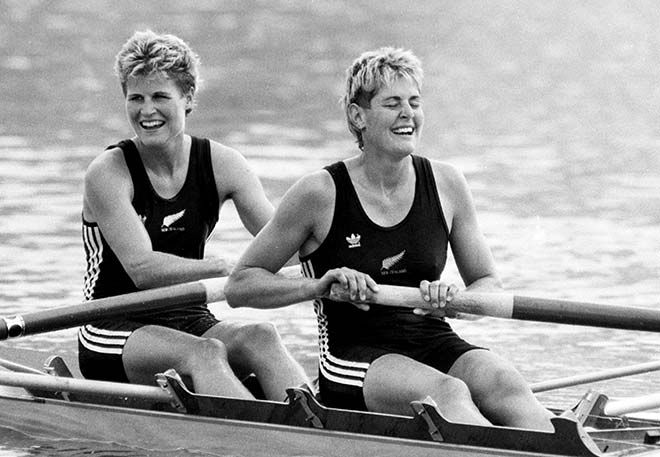 She moved to the Waikato, joined the powerful Hamilton club which included fellow Whanganui Hall of Fame member Philippa Baker, with the club dominating New Zealand women's rowing for many years.
Nikki's 14 New Zealand premier titles comprised the coxless pair between 1986 and 1990, the double scull in 1988-1989, four in 1989-1990, quadruple scull in 1988-1990 and the eight in 1986-1989-1990.
After missing original selection for the 1988 Olympics Nikki and Lynley headed off to Europe under the guidance of astute coach Mahon who was to prepare New Zealand, Swiss and South African national crews.
It was at an international qualifying regatta in Lucerne that the Kiwi pair clinched Seoul Olympic selection by finishing second to East Germany.
There was little time before the Olympics but Nikki and Lynley, who were working in Switzerland as gardeners to save for a holiday in the Greek islands, stepped up their training.
During their stay in Europe they raced at numerous European regattas, winning seven Swiss national titles.
Came the Olympics and the Kiwi pair finished second in their heat and went on to win the repechage and qualify for the final. They could not contain the strong Romanian and Bulgarian crews but turned a 14sec defeat at the hands of East Germany at Lucerne into a 5sec victory in the battle for the bronze medal.
The effort by the lightest, youngest and most inexperienced crew in the final came as a complete surprise and halted an Eastern European medal trifecta.
All the training effort and hard work by the pair and the skill of coach Mahon paid off with the Olympic bronze medal row from a crew that had not originally been selected for Seoul.
An Auckland doctor, Nikki now rows for the Auckland club and recently won eight women's and mixed crew titles at the NZ Masters' rowing championships at Lake Karapiro.
She is busy training, as is her successful Olympic partner Lynley Coventry (nee Hannen) in Nelson, to compete at the 2017 World Masters Games at Karapiro.
Nikki becomes the sixth rower in the 23-strong Whanganui Hall of Fame, joining Philippa Baker-Hogan, Trevor Coker and Billy Webb (all inducted in 2008), Richard Tonks (2012) and Clarrie Healey (2015).
There are four rugby players in the Hall – Bill Osborne (2008), Moke Belliss (2009), Charlie Seeling (2012) and Glen Osborne (2013), three from athletics – Arthur Holder and Arthur Porritt (both 2008) and Bev Shingles (2014) – and three from hockey – Pat Barwick (2010), Alan McIntyre and Les Wilson (both 2008).
Lawn bowlers Peter Belliss (2008) and Sean Johnson (2013), cycling's Gary Anderson and Ron Cheatley (both 2008), basketballer Megan Compain (2015), cricket's Harry Cave (2009) and golfer Bryan Silk (2011) are also individual inductees.
In addition there are two family groups – motorcyclists Bob, Percy and Rod Coleman (2009) and the McIntyre family of Annie (golf), Barney (hockey and rugby), Joan (softball), Gordon (hockey), Mary (golf and softball) and Roy (hockey) inducted in 2012.
The judging panel this year comprised Sue Westwood (chairperson – former Whanganui District Councillor, NZ Masters Games and golfer), Ken Mair (Whanganui Iwi), Ron Palenski (Dunedin-based NZ Hall of Fame Director), J B Phillips (Whanganui media), Keith Smith (administrator – Whanganui District Council sport and recreation adviser) and Mark Stoneman (multisport organiser).
By Commenting Below you agree to the Terms and Conditions found here