Search
News & Editorials
Daily Columns
Tide times
Ski Reports
Emergency Number
Business Profiles
Facebook

Ride your bike in February and win!

Published: 20 Jan 2017 - - Author: Newsroom
---
Next month's Aotearoa Bike Challenge promotes the benefits of cycling with some great prizes up for grabs.
The challenge, which runs across New Zealand from February 1-28, is supported by the Let's Go programme and the New Zealand Transport Agency.
Let's Go is a Council-led initiative, promoting walking, cycling and scootering as popular and safe travel choices. Active Transport Co-ordinator Norman Gruebsch says the Council and other organisations including the Whanganui District Health Board, Whanganui Police and the local Bicycle Users Group have already signed up for the event.
"It is fun and free and encourages us all to experience first-hand the joys and benefits of riding a bicycle," Norman said.
Sign yourself and your work organisation up at www.aotearoa.bike then log at least one 10-minute or longer bike ride anytime during February. Prizes include trips to Croatia and British Columbia.
"You don't need to be a cycle warrior to take part. You may wish to enjoy a leisurely weekend ride with your family on our new shared pathways, or a regular ride to work during the summer.
"We're hoping that together we can get 10,000 people on bikes across New Zealand."
The challenge includes features like automatic tracking GPS apps, individual badges and goal tracking, lots of individual and team prizes, leader boards and more.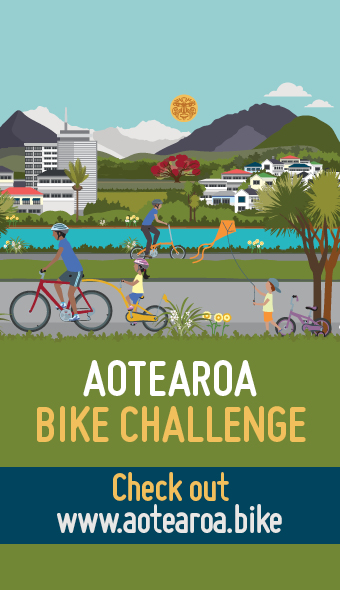 For more information, please email letsgo@whanganui.govt.nz or visit www.letsgowhanganui.org.nz
By Commenting Below you agree to the Terms and Conditions found here