Search
News & Editorials
Daily Columns
Tide times
Ski Reports
Emergency Number
Business Profiles
Facebook

27th Mar: Wanganui Collegiate rowing way back to top

Published: 27 Mar 2017 - - Author: Guests
---
Wanganui Collegiate wants a return to the glory days.
That starts with them collecting medals at this year's Aon Maadi Cup, according to master of rowing Gus Scott.
He aims to help the school resume their success at the regatta.
Wanganui Collegiate have won the Maadi Cup 17 times, seven more than their nearest rivals.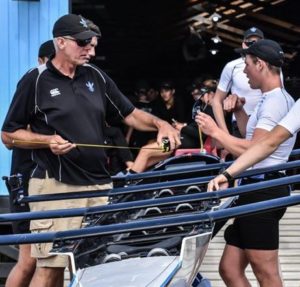 IMAGE: Master of rowing Gus Scott talking to one of the athletes about boat setup. Photo: Supplied
"We're the most winningest Maadi Cup school in New Zealand," Scott said.
Scott has been involved in rowing at Collegiate for 11 years, most of them as a volunteer while he worked as a prison officer, until two years ago when the school offered him a full time position.
"To be working full time in rowing and not having to work at the prison any more is living the dream," he said.
Scott was put in charge as part of an overhaul of Collegiate's rowing programme.
"It had been done by a variety of people with a lack of consistency and a lack of direction," he said.
There was a lull in the school's performances – they haven't won the Maadi Cup since 2004.
"A group of board members and parents got the kids involved, and with the school's best interests at heart they formed the WCS rowing steering group.
"They decided we needed to get a bit more professional if we were ever going to get back to the top of the dais."
His first task after accepting the position was to hire a new head coach.
IMAGE: Wanganui Collegiate head coach David Lindstrom enjoying a day out on the water. Photo: Supplied
He appointed former St Bede's coach and double Olympian David Lindstrom.
"Collegiate has such a history of rowing successes and Whanganui itself – there's so much history in the town with rowing and the river," Lindstrom said.
"The culture and what they wanted to do was extremely impressive to me."
Lindstrom had no history with Scott, but knew of him from his involvement in the sport.
"He's a very good administrator and he does a fantastic job in the management of the boats, the clubhouse and the health and safety," Lindstrom said.
"So I don't have to worry at all about those things, my key role is to head up the programme and make fast boats.
"That's what I love doing and we work in well together," he said.
Lindstrom believes they have changed the state of rowing in the school.
"Well, they were well below expectations when it came to what they should be doing, so we have corrected that over a period," he said.
"It has been exactly as I thought, we have managed to get them up in one year and they are even better this year."
The school came back from the North Island Secondary School Championships with two gold, two silver and two bronze medals.
Like Scott, Lindstrom was expecting more of the same from his athletes at the Aon Maadi Cup regatta starting March 27 at Lake Karapiro.
"We are expecting quite a few good performances, in the top three of their respective age groups," he said.
Lindstrom had trialled in Whanganui in the '70s with New Zealand teams preparing for the Olympics – he competed at Munich and Montreal.
"I felt the history of rowing in Whanganui when I arrived.
"Most people in Whanganui understand rowing, they've touched it, and it has been a part of their lives, so it's an excellent place to be.
"If you're keen on rowing, Whanganui would probably be the place to be within New Zealand shores I would think."
Writer: Jesse King
By Commenting Below you agree to the Terms and Conditions found here