Search
News & Editorials
Daily Columns
Tide times
Ski Reports
Emergency Number
Business Profiles
Facebook

Whanganui Wasting Less

Published: 19 Nov 2016 - - Author: Newsroom
---
The public of Whanganui are embracing services offered by the Whanganui Resource Recovery Centre culminating in more product being recycled and less waste to landfill.
Chairman Ken Mair, speaking at a recent Whanganui Resource Recovery Centre Trust AGM, said that increased product received through the Centre, investment in key infrastructure and planning for new waste minimisation services, is all positive news.
"The Centre is in a good position to re-cycle and re-purpose more of Whanganui's waste streams into the future therefore contributing to the protection and sustainability of our environment ".
The AGM heard that during the 2015/16 year, the Whanganui Resource Recovery Centre Trust received and recycled increased volumes for most of the main products it received, as compared to last year. The percentage changes from 2014/15 to 2015/16 were: –
Glass 17% increase
Plastic 40% increase
Paper 6% decrease
Cardboard 3% decrease
Greenwaste 25% increase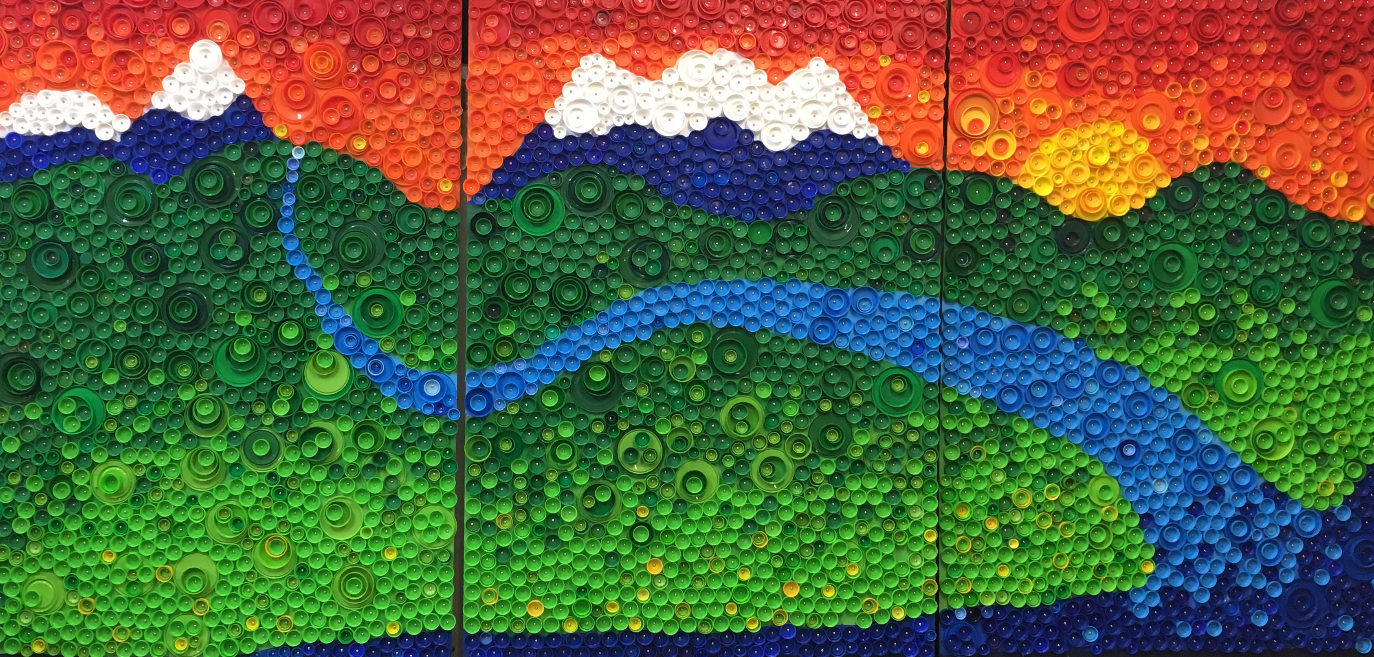 A 3M x 5M mural made from recycled plastic bottle tops during the Whanganui Resource Recovery Centre's Open Day
Whanganui Resource Recovery Centre Trust Manager Ramari Te Uamairangi said the focus during the year was on raising the Centre's profile and capability.
"We have introduced a part time educator at the Centre to work with organisations and education entities to minimise waste and increase visits to the centre. Our waste educator is also working closely with our partner Sustainable Whanganui to deliver waste minimisation resources, a resource library, the re-use academy, green bikes, event recycling services and a number of workshops/programmes from the site", Ramari said.
Ken Mair said he was looking forward to progressing exciting services in 2016/17 that would help the community to live more resourcefully. New services include a household hazardous waste drop off facility, satellite recycling stations and enhanced online waste minimisation information.
The Whanganui Resource Recovery Centre Trust, was formed in 2013 as a partnership between Tupoho, Whanganui District Council and Sustainable Whanganui to govern and operate the Resource Recovery Centre in Maria Place n.
For more information contact Ramari Te Uamairangi, 021 0319555 or ramari@wrrc.co.nz.
By Commenting Below you agree to the Terms and Conditions found here